El Imperio de Disney se expandió a nuevos niveles este año: además de finalizar la compra de Fox, lanzó su propia plataforma de streaming, Disney+, con la que puso a nuestra disposición absolutamente todo su catálogo (menos la infame película de 1946 Song of the South, claro). La compañía lleva años en proceso de apoderarse de todos los medios de entretenimiento mientras consolida una escalofriante lealtad a su marca. Si con sus remakes live action Disney busca "corregir" sus historias clásicas omitiendo el racismo y sexismo de su época (además de extender su control de propiedad intelectual sobre ellas), con Frozen II pareciera que reflexiona sobre su legado y lo que haría falta para "proteger" su reino.
En su momento, Frozen fue el inicio de esta nueva etapa de la compañía. Escrita por Jennifer Lee, Chris Buck y Shane Morris, basada en el cuento "La reina de hielo" de Hans Christen Andersen, la película gira entorno a dos princesas, Elsa y Anna, que quedan huérfanas y deben hacerse cargo del reino de Arrendale. Elsa tiene poderes (puede crear y controlar hielo y nieve), y políticos locales consideran que pone en peligro al reino. Con un enfoque en la relación entre las hermanas y subvirtiendo algunas convenciones dentro del género de cuentos de hadas, la película fue un hit cultural y económico que puso en la mira la temática de representación en pantalla y la importancia de historias que no se enfoquen en que las princesas se casen con el primer príncipe que se encuentran.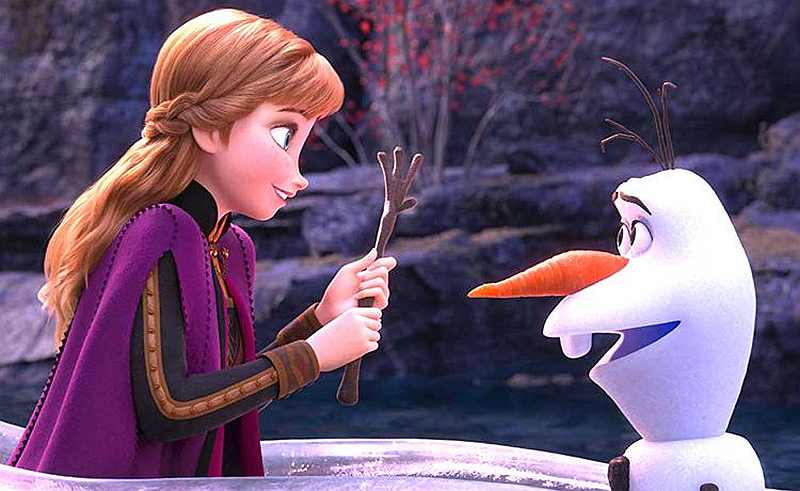 A 6 años de eso, la secuela reúne al mismo equipo detrás de la original y busca responder preguntas que no necesitaban respuestas: ante un peligro sobrenatural que amenaza con destruir Arrendale, Elsa, Anna, Kristoff, Olaf y Sven parten al norte para encontrar la fuente de los poderes de Elsa y salvar al reino. Como parte de la trama, la película presenta al grupo indígena ficticio Northuldra, basado en los grupos indígenas escandinavos Sámi (a quienes la compañía consultó), y cuenta una historia familiar para todo el mundo. Al igual que en Thor: Ragnarok, los personajes se dan cuenta del origen real de su reino y enfrentan las consecuencias de las acciones de sus ancestros. El desenlace de esta trama es ambicioso y, hasta cierto punto, hueco: quiere reformar el pasado sin que nada del presente cambie. En cuanto a las subtramas, increíblemente Olaf pasa por la pubertad y Kristoff sigue la tendencia de los intereses románticos del 2019, donde los hombres se dan cuenta de lo que implica ser pareja de una mujer poderosa.
Con canciones que sí funcionan en la trama, una mejor animación e infinitamente entretenida, Frozen II muerde mucho más de lo que puede masticar, mientras propone nuevas formas de lo que podrían ser los cuentos de hadas para niñas.
DEJANOS UN COMENTARIO