De acuerdo con el medio The Washington Post, un grupo de hackers anónimos filtraron a la red cerca de 25 mil cuentas de correo electrónico y contraseñas que presuntamente pertenecen a la Organización Mundial de la Salud (OMS), a la Fundación Bill Gates  y a institutos de salud de Estados Unidos.
La filtración fue confirmada por el Grupo de Inteligencia SITE, el cual se encarga de monitorear el terrorismo informático. No obstante, de acuerdo con el medio estadounidense, el grupo apuntó no haber verificado aún si las cuentas y contraseñas eran auténticas,
Este listado fue publicado en sitios como 4chan y distintos foros estadounidenses. Sin embargo, ninguna de las dependencias señaladas ha confirmado que las contraseñas sean suyas.
Por su parte, SITE señaló que la filtración pudo ocurrir durante el domingo y el lunes, y que fueron utilizadas por grupos de extrema derecha  entre ellos, Neonazis y supremacistas blancos, quienes habrían usado esta información para hackeos y hostigamiento,, dijo Rita Katz, directora ejecutiva del SITE.
Según reportó el medio, Katz aseguró que a raíz de la filtración, fueron muchas las teorías conspirativas que surgieron y muchos los grupos que empezaron a difundir la información en plataformas digitales y redes sociales.
«Las listas, cuyos orígenes no están claros, parecen haber sido publicadas primero en 4chan, un panel de mensajes conocido por sus comentarios políticos, de odio y extremistas, y más tarde en Pastebin, un sitio de almacenamiento de texto, en Twitter y en canales de extrema derecha en Telegram», señaló el Washington Post.
Nearly 25,000 email addresses and passwords allegedly from NIH, WHO, Gates Foundation and others are dumped online https://t.co/r9CdFBL8Og

— The Washington Post (@washingtonpost) April 22, 2020
 Por su parte, usuarios de Twitter manifestaron sus conclusiones y lo que les sugiere este hecho. Algunos mencionaron las coincidencias entre la realización del Foro Económico Mundial y la aparición al día siguiente del virus. Otros más sugirieron la posible creación del virus por parte de los implicados en las filtraciones de correos, e incluso aseguran que el Covid-19 pudo haber salido del laboratorio P4 chino y que la pandemia fue inducida a través de un cubo de hielo en Octubre del 2019.
De momento todo queda en especulaciones. Ya desde marzo del año pasado, diversos especialistas habían mencionado que el SARS Covid-2, que causa el actual coronavirus, no da muestras de haber sido creado artificialmente. No obstante, se espera que las filtraciones arrojen más información al respecto.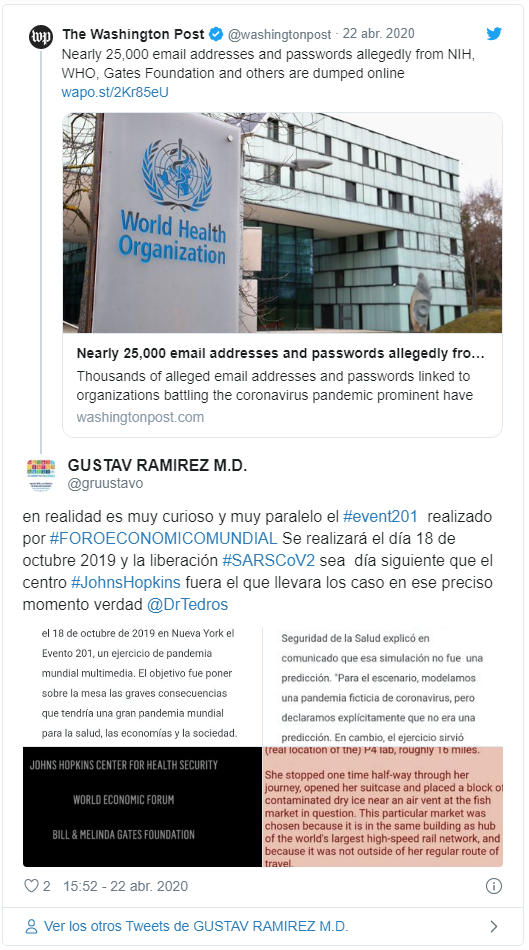 DEJANOS UN COMENTARIO