Después de 56 años, finalmente están de regreso. Hoy, Rob Zombie ha presentado el primer tráiler oficial de su reinvención de The Munsters . Ha pasado mucho tiempo desde que se escucharon risas dentro de 1313 Mockingbird Lane, pero ahora estamos a punto de saciarnos cuando la amigable familia de monstruos reconocibles está de vuelta y con sus amigos y miembros de la comunidad a cuestas.
Llevándonos en el viaje de "la mayor historia de amor jamás contada", el tráiler ilumina lo que podemos esperar de la próxima función. Si bien todos (¡tal vez solo nosotros!) hemos estado especulando sobre quién interpretará al hijo de los Munster, Eddie, y a la prima Marilyn, todo fue en vano, ya que parece que la película de Zombie se centrará en los primeros días de Herman Munster ( Jeff Daniel ). Philips ) y el romance de Lily Munster ( Sheri Moon Zombie ). El tráiler ve a ambos protagonistas al acecho de una pareja romántica cuando se presenta a la pareja, para consternación del padre de Lily, el abuelo, también conocido como El Conde ( Dan Roebuck ).). Es un primer vistazo oficial colorido y vibrante, lleno de la extravagancia de la serie original y, aunque será una producción apta para niños, todavía se ve un poco espeluznante en algunas áreas.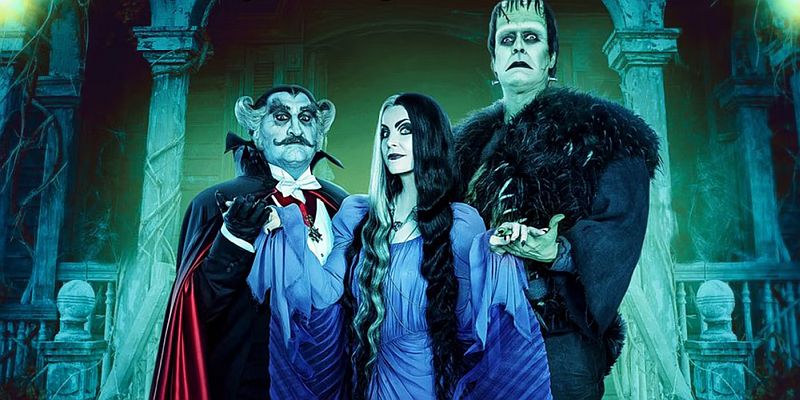 Junto con Phillips, Moon Zombie y Roebuck, la película estará protagonizada por Cassandra Peterson como la agente de bienes raíces Barbara Carr, Tomas Boykin como Lester the Werewolf, Richard Brake como el Dr. Henry Augustus Wolfgang, Jorge Garcia como Floop, Sylvester McCoy como Igor, Catherine Schell como Zoya Krupp, Dee Wallace como la voz de "Good Morning Transylvania", Jeremy Wheeler como Mr. Gateman, con los miembros originales del reparto Pat Priest y Butch Patrick también listos para hacer apariciones.
La dedicación de Zombie a la serie original es evidente en cada adelanto que ha publicado hasta ahora, y este tráiler no es diferente. Si bien puede ser conocido por sus películas llenas de sangre y violencia, como House of 1000 Corpses y The Devil's Rejects , nuestro primer vistazo oficial a The Munsters confirma que Zombie era el director adecuado para el trabajo y puede hacer una transición sin problemas al PG. mundo. Después de todo, soñó con hacer su proyecto durante años e incluso se comprometió a crear una versión coloreada en lugar de la paleta de colores original en blanco y negro sabiendo que, de lo contrario, los estudios dudarían en respaldarlo.
Junto con la emoción del primer tráiler oficial, ahora también sabemos que la película se estrenará en algún momento de septiembre de 2022. Si bien no se ha anunciado una fecha específica, permanezca atento a Collider para obtener más información. Puedes ver el tráiler a continuación.
DEJANOS UN COMENTARIO