Si bien los guionistas de Avengers: Infinity War, Christopher Markus y Stephen McFeely, dijeron en su momento que no incluirían a Adam Warlock en la película porque sería un "retroceso masivo" y requeriría otra cinta más a para presentar primero al personaje, los seguidores de Marvel Comics de todas maneras especularon en torno a su posible aparición en el filme por su relación con las Gemas del Infinito (Infinity Stones) y el Guantelete del Infinito (Infinity Gauntlet), y tales teorías siguieron vivas hasta el día del estreno de Infinity War.
En Marvel Comics, Adam Warlock es un ser cósmico creado artificialmente y diseñado para ser el humano perfecto. Visto por primera vez hace más de 50 años, Warlock es el guardián de la Gema del Alma (Soul Stone) y también ha cuidado el Guantelete del Infinito en su momento. De hecho, dirigió la batalla contra Thanos en el cómic The Infinity Gauntlet, que ha sido adoptado en Infinity War. Sin embargo, a pesar de esa conexión, Warlock no fue considerado para la película.
En conversación con ET Online, Markus explicó que decidieron no sumar a Adam Warlock a la ecuación porque Infinity War está tan llena de personajes que no había forma de hacerle justicia a este otro superhéroe.
"No presentamos a Adam Warlock porque es un backbend masivo y prácticamente tienes que hacer una película de Adam Warlockpara presentarlo. Él simplemente no puede caminar en la pantalla. Entonces, hubo un breve momento en el que estábamos como 'ehhh' y luego estábamos como [señala el póster de la película] ¡Ya tenemos tantos personajes! Y luego hubo otros que no pudimos usar. Como Silver Surfer, quien hubiera sido bastante útil, pero no podemos tocarlo por ahora", indicó el guionista.
En la misma entrevista, Markus y McFeely contaron que en determinado momento evaluaron incluir una serpiente gigante en la historia.
Adam Warlock es un personaje clave de la mitología de Marvel Comics y para incluirlo en la trama no basta un cameo. Realmente necesita una película que podría plasmarse en la Fase 4 del MCU.
Es más, el director de Guardians of the Galaxy, James Gunn, indicó hace poco que Warlock "tendrá un futuro en el MCU".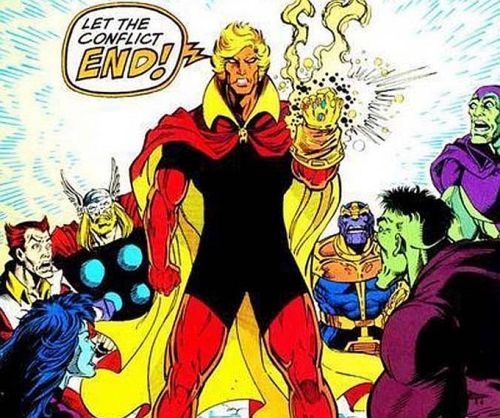 DEJANOS UN COMENTARIO