Por fin ha llegado a los cines la que probablemente sea la película más anhelada por los seguidores del Universo Cinematográfico de Marvel, Avengers: Infinity War, la tercera del mismo realizada por los estadounidenses Joe y Anthony Russo y la quinta escrita por Christopher Markus y Stephen McFeely. Parte de lo que habíamos visto en las dieciocho anteriores nos ha llevado hasta aquí, a la terrible amenaza que personifica el interesante y apocalíptico Thanos, con la mayor o menor implicación en sus tramas de las Gemas del Infinito, una fuente de poder desmedida surgida en el Big Bang tal como expone Wong (Benedict ídem) durante el metraje, y que desea reunir el villano intergaláctico para utilizarlas juntas con el Guantelete del Infinito, que forjó para él Eitri, rey de los enanos de Nidavellir (Peter Dinklage).
La morada Gema del Poder, contenida en el Orbe, aporta habilidades físicas sobrehumanas y el control de diversas energías, y se la arrebató Thanos a los Nova Corps después de que los héroes de Guardians of the Galaxy (James Gunn, 2014) impidieran que Ronan, el Acusador (Lee Pace), la consiguiese para entregársela al malo malísimo. La Gema del Espacio, de color azul, permite la teletransportación universal y Loki se la alarga a Thanos en Infinity War antes de su fallido acuchillamiento; la alberga el Teseracto que los asgardianos Volstagg (Ray Stevenson) y Sif (Jaimie Alexander) le confiaron en Thor 2: The Dark World(Alan Taylor, 2013). Al pobre Coleccionista, Taneleer Tivan (Benicio del Toro), le despoja más tarde del Éter, la rojiza Gema de la Realidad con la que todo lo existente se puede corregir al gusto de su portador.
El gran enigma era la anaranjada Gema del Alma, que absorbe y controla las de vivos y muertos, y la obtiene Thanos tras sacrificar a su hija adoptiva Gamora (Zoe Saldana) en el planeta Vormir, donde vemos recluido a Johann Schmidt o Cráneo Rojo (Hugo Weaving) como su guardián, el antagonista de Captain America: The First Avenger (Joe Johnston, 2011), que ansiaba el poder del Teseracto. La verdosa Gema del Tiempo, cuyo poseedor lo manipula a su capricho, la guarda Stephen Strange (Benedict Cumberbatch) en el Ojo de Agamoto que cuela de su cuello, y se la afloja a Thanos con la condición de que no asesine a Tony Stark (Robert Dawney Jr.). Y la Gema de la Mente, de color amarillo, proporciona capacidades psíquicas como el control mental, y Thanos se la arranca a Visión (Paul Bettany) de la frente en el último tercio de Infinity War.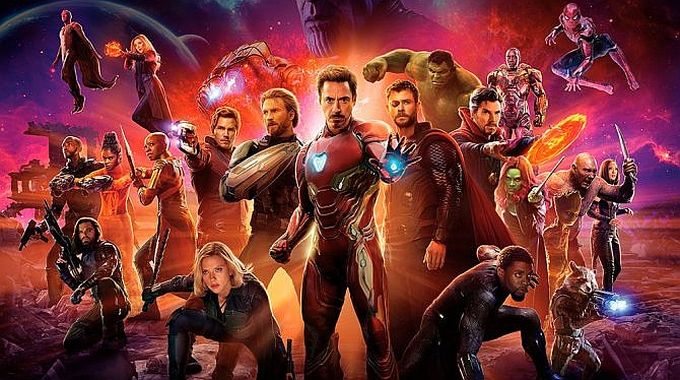 Había formado parte del Cetro Chitauri que el bellaco de Titán le prestó a Loki para que atacara la Tierra durante The Avengers (Joss Whedon, 2012), cayó en manos del Barón Strucker (Thomas Kretschmann), integrante de Hydra, y los Vengadores se la quitaron en Avengers: Age of Ultron (Whedon, 2015), lo que provocó más tarde tanto el surgimiento del villano robótico como de una J.A.R.V.I.S., inteligencia artificial de Tony evolucionada en Visión. Y ninguno de nosotros estábamos preparados como espectadores para una derrota tan aplastante de tan queridos superhéroes frente a Thanos en Infinity War, la primera indiscutible en estas diecinueve películas; a no ser que consideremos un triunfo el mal rollo entre Stark y Steve Rogers (Chris Evans), aquí en modo Nómada, por la división en Captain America: Civil War (Hermanos Russo, 2016) o la destrucción de Asgard en Thor: Ragnarok (Taika Waititi, 2017).
Pero no hay duda de que la catástrofe de este último filme es absolutamente devastadora: Thanos chasquea los dedos en posesión de las seis singularidades del Infinito en su Guantelete, tal como Gamora y él habían mencionado que haría, suprime de un plumazo a la mitad de la población del Universo y cumple así con su delirante propósito genocida según el que era indispensable la muerte en masa para garantizar el equilibrio, la permanencia de los recursos y, paradójicamente, la propia vida. No obstante, no hay que olvidar que el Doctor Strange había analizado con la Gema del Tiempo todos los posibles futuros de esta guerra sin cuartel contra Thanos, y concluye que existe sólo uno en el que los Vengadores y compañía le patean el trasero. Y cuando Tony le pregunta por qué le ha servido el Ojo de Agamoto en bandeja, una de las cosas que le responde el hechicero de Marvel es que "no había otra manera".
Tal vez se refiere al único modo en que podrían vencer al poderosísimo Thanos, y a que estos horribles acontecimientos pondrán en marcha una concatenación de otros en la que será así irremisiblemente. Por supuesto, debería parecernos absurdo creer que esta derrota es definitiva, que el villano no acabará mordiendo el polvo y que todos los héroes a los que hemos perdido en Infinity War no van a volver de alguna forma. Por ejemplo, gracias a la inestimable ayuda de aquella superheroína a la que acude Nick Fury (Samuel L. Jackson) en la escena poscréditos justo antes de desaparecer igual que muchos otros: la Capitana Marvel, nada más y nada menos, de la que contemplamos su símbolo y sus colores en esa especie de busca con la que la llama Fury. Ella seguro que de dará unos buenos azotes al chiflado asesino de Thanos en la continuación, cuyo estreno está previsto para 2019. Va a ser una incómoda espera hasta entonces.
DEJANOS UN COMENTARIO