Tras alcanzar el éxito tanto comercial como de la crítica con 'Thor: Ragnarok', el realizador Taika Waititi parece deseoso de regresar al Universo cinematográfico de Marvel. Lo que no tiene muy claro es con qué personaje le gustaría volver, aunque sí es seguro que en ningún caso sería para 'Guardians of the Galaxy Vol. 3', pues considera que es una saga que no le pertenece:
"Quiero hacer otra película con ellos. Para mí, los Guardianes son películas de James Gunn. Entrar en algo así con su sello sería como ir a la casa de alguien y decir: Hola, soy tu nuevo padre. Se siente algo incómodo".
Lo cierto es que esa mentalidad no evitó que Waititi dirigiera un episodio de la próxima serie de Star Wars, 'The Mandalorian', una oportunidad que, según Waititi. fue increíble: "Es  divertido hacer algo dentro del Universo Star Wars. También es extraño ver a un stormtrooper [tropas de asalto del Imperio] y de repente estar haciendo una escena con 50 o 60 de ellos. Es increíble".
Respecto a su diferencia de criterio, Waititi quiso ser claro: "Star Wars es muy diferente del estilo Marvel. El tono de las primeras películas realmente debería ser respetado, es lo que les gusta a los fans. No puedes faltarle el respeto. Definitivamente mi tono está ahí".
Waititi se encuentra actualmente en la postproducción de su último trabajo como director, 'JoJo Rabbit', película ambientada en plena Segunda Guerra Mundial que contará con el protagonismo de Scarlett Johansson, Rebel Wilsony Sam Rockwell. Además, se prepara para lanzar la serie de FX,'What We Do in the Shadows', basada en su propia película de 2014.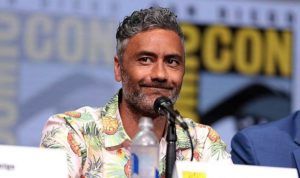 DEJANOS UN COMENTARIO