Marvel ha lanzado el segundo tráiler de Thor: Love and Thunder , además de un nuevo póster, para la próxima película de Marvel Cinematic Universe protagonizada por Chris Hemsworth. Presenta una gran mirada a Gorr the God Butcher de Christian Bale. La película llegará a los cines el 8 de julio.
Thor: Love and Thunder ve el regreso de los alumnos de MCU Chris Hemsworth como el Dios del Trueno, Tessa Thompson como Valkyrie y Natalie Portman como Jane Foster, quien ahora asume el manto del Mighty Thor y empuñará el icónico Mjolnir. El ganador del Oscar Christian Bale también regresará al género de los superhéroes al firmar para el papel del villano Gorr the God Butcher.
"La cuarta entrega encuentra a Thor en un viaje diferente a todo lo que ha enfrentado: una búsqueda de la paz interior. Pero su retiro es interrumpido por un asesino galáctico conocido como Gorr the God Butcher, que busca la extinción de los dioses", dice la sinopsis. "Para combatir la amenaza, Thor solicita la ayuda del rey Valkyrie, Korg y su ex novia Jane Foster, quien, para sorpresa de Thor, empuña inexplicablemente su martillo mágico, Mjolnir, como el Poderoso Thor. Juntos, se embarcan en una angustiosa aventura cósmica para descubrir el misterio de la venganza del Dios Carnicero y detenerlo antes de que sea demasiado tarde".
El elenco adicional incluye ex-alumnos de la franquicia como Jaime Alexander como Sif, Jeff Goldblum como Grandmaster, Taika Waititi como Korg y estrellas de Guardians of the Galaxy como Peter Quill de Chris Pratt, Nebula de Karen Gillan, Kraglin de Sean Gunn y Groot de Vin Diesel.
Thor: Love and Thunder vuelve a ser dirigida por Waititi ( Jojo Rabbit ) a partir de un guión que coescribió con Jennifer Kaytin Robinson ( Alguien genial ), que será la continuación de Thor: Ragnarok de Waititi .
Trailer Latino:
Poster: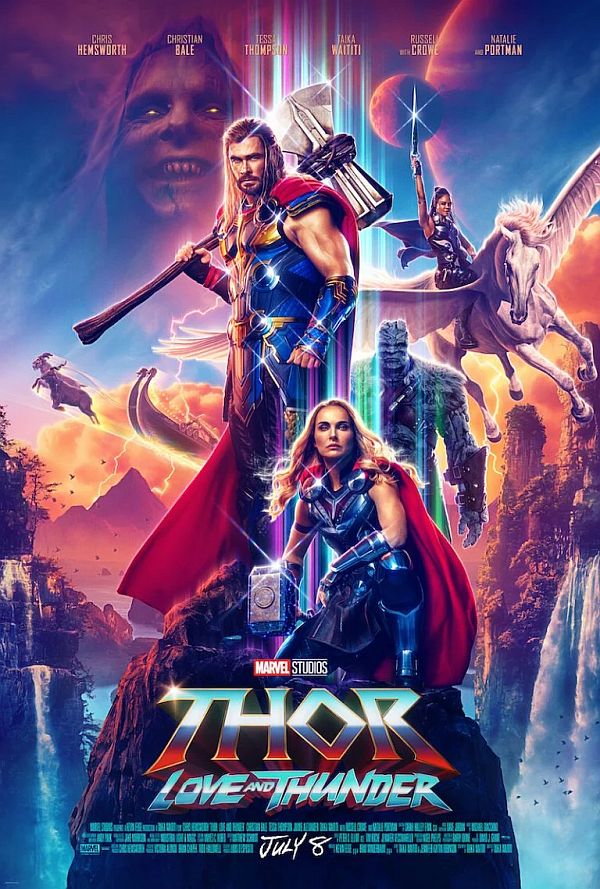 DEJANOS UN COMENTARIO