Se veía venir…
La productora de 'House of Cards', Media Rights Capital (MRC), ha emitido un comunicado que reproducimos a continuación (convenientemente traducido al español): "Mientras continuamos con la investigación sobre las graves acusaciones surgidas en torno al comportamiento de Kevin Spacey durante la producción de 'House of Cards', el actor ha sido suspendido con efecto inmediato. MRC, en asociación con Netflix, continuará evaluando el camino creativo a seguir con la serie durante el receso".
Sin embargo la responsable de la emisión en Estados Unidos de la serie ha ido más allá, y a su vez ha emitido otro comunicado en el que asegura que "Netflix no participará en ninguna producción adicional de 'House of Cards' que incluya a Kevin Spacey. Continuaremos trabajando con MRC durante este tiempo de descanso para evaluar nuestro camino hacia adelante en lo que se refiere a la serie".
Blanco y en botella… pues parece improbable que MRC contemple siquiera la posibilidad de cambiar de operador, si es que a estas alturas hay algún otro operador que pueda estar interesado en lidiar con lo que se ha convertido (y han querido convertir) en un "marrón".
Por lo tanto, lo más probable es que sus responsables decidan hacer lo mismo que ya hizo la CBS en 'Dos hombres y medio' cuando Charlie Sheen se convirtió en un "problema": Que la nueva temporada comience con la revelación de que el personaje del actor, Frank Underwood, ha fallecido. Así, sin más, y porque no hay ninguna otra forma de hacerlo sin contar con la participación del intérprete.
Eso, por supuesto, en caso de que la producción de dicha sexta (y en principio última) temporada actualmente paralizada continúe adelante, pues no hay que olvidar que al fin y al cabo 'House of Cards' es la historia del mencionado Frank (y Claire) Underwood. De ahí que MRC y Netflix estén contemplando la posibilidad de producir algún tipo de spin-off con el que seguir exprimiendo una licencia que podría tener los días contados.
Según diversas fuentes sus responsables están considerando hasta tres posibilidades distintas, de las cuales sólo ha trascendido aquella que estaría escrita por Eric Roth y protagonizada por Doug Stamper, el personaje al que da vida Michael Kelly.
Por último mencionar ya puestos que Netflix, en el mismo comunicado, ha anunciado que también ha decidido desentenderse por completo de 'Gore', película actualmente en post-producción sobre el escritor Gore Vidal que está protagonizada y producida por quién si no, Kevin Spacey. Lo que no ha aclarado sin embargo el operador es si permitirá que alguna otra compañía pueda retomar el proyecto, o si simplemente guardará todo el material dentro de un cajón con un candado y luego tirará la llave al mar.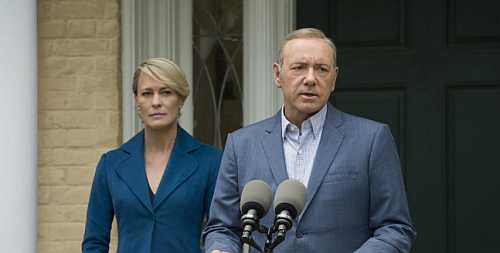 DEJANOS UN COMENTARIO