Con motivo del lanzamiento del biopic de Dick Cheney, 'El vicio del poder', el realizador Adam McKay habló con el podcast Happy Sad Confused, donde confesó haber tenido reuniones con Kevin Feige y Marvel Studios sobre algunos de los futuros proyectos del estudio. El cineasta no quiso pronunciarse abiertamente sobre ninguno de ellos, excepto 'Guardians of the Galaxy Vol. 3', cuya dirección dijo sería algo difícil de rechazar. Lógicamente, por el momento tenemos que considerarlo tan solo como una posibilidad, pues el acuerdo estaría lejos de ser oficial.
En concreto, McKay dijo que el personaje de Nova, jefe de la policía intergaláctica de Nova Corps, sería uno de los personajes con el que estaría particularmente interesado en trabajar. Otro punto a su favor, pues el propio Feige confirmó anteriormente que Nova estará en el Vol. 3.
La relación de McKay con Marvel Studios se remonta al año 2015, cuando el director iba a hacerse cargo de la dirección de 'Ant-Man'. Por entonces Edgar Wright había declinado dirigir el proyecto y el trabajo fue ofrecido a McKay, pero éste lo rechazó debido a su amistad con Wright. Sí ayudó en el proceso de reescritura porque su desea era estar "involucrado de alguna manera".
En cualquier caso, la codiciada silla de director de 'Guardians of the Galaxy Vol. 3' sigue vacante tras el desafortunado despido del director de las dos primeras entregas, James Gunn. Seguramente los caminos de McKay y Marvel volverán a encontrarse, ya veremos si en este u otro proyecto.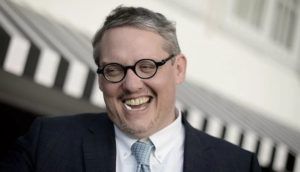 DEJANOS UN COMENTARIO