No quiero sonar clasista, pero para ver The Irishman hay que tener cierta noción sobre calidad artística y/o el lenguaje fílmico. Quizá se escuche un poco pesado, pero es como pagar por una Master Class de 3 horas y media de duración impartida por el propio Martin Scorsese y sus actores llamada "Esto es Cine, así se hace, soy el puto amo y a mí nadie me edita". Esto va en serio, y es que si son como el 99% de los que tienen Netflix para ver solo series, caricaturas y pelis de superhéroes, no asistan a una Master Class que ni siquiera les interesa o que ni van a entender. Ahora que si quieren aprender y están dispuestos a asistir, siéntanse libres de presenciar a un Scorsese misericordioso, que ha decidido estar en su televisión para darnos una cátedra sobre cómo, para qué y qué es el cine: arte.
En la que quizá sea una de las críticas más sencillas que me haya tocado escribir a lo largo de 10 años (y es que ¿qué se le puede criticar al Maestro del simposio fílmico si tu decidiste pagar o asistir a su clase?), debo comenzar por decir que The Irishman es la vida, obra y testamento de Scorsese ¡No! No es su mejor película (tiene otras muchas joyas con mejor ritmo pero igual de perfectas), pero si el compendio fílmico más completo sobre su estilo técnico, auditivo y narrativo, apoyado en una adaptación sublime que gracias al estatus de su director permite la estructuración precisa de cada uno de sus personajes debido a la larga duración. Si bien es cierto que por momentos el relato se puede sentir pesado, no es por un error de Scorsese, sino por nuestro propio conductismo, desacostumbrados en la época actual a este tipo de clases cinematográficas dentro de un entorno donde se ha perdido de vista el verdadero concepto artístico del cine (comprendiendo de cierta manera las declaraciones recientes de Scorsese, las cuales son  incómodamente verdaderas).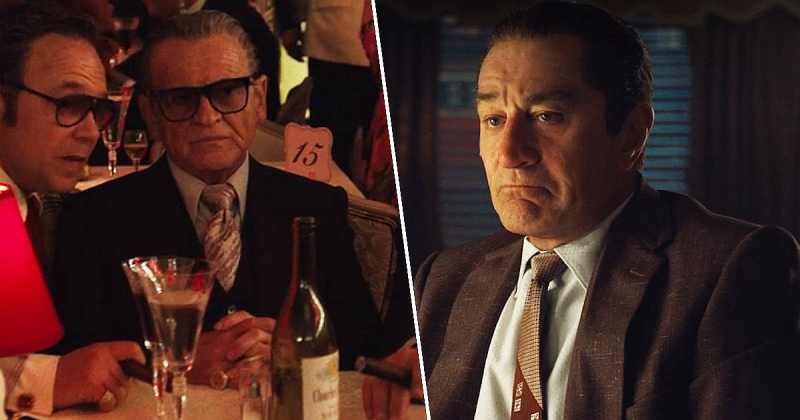 El primer acto es tan conciso como sutil, en el que Scorsese y Robert De Niro comulgan para concebir a su protagónico sin un hilo conductor definido. Parece propositivo que el director deje caer un poco su relato en cierta incertidumbre para inyectar con la intensidad de Al Pacino su segundo acto (y hora), donde tenemos el motif pero apenas los esbozos delconflicto, en lo que es también una sublime clase actoral, repleta de química y espontaneidad y donde podemos notar esos ricos diálogos que bajo la dirección de Martin lo han llevado a ser una de las leyendas vivientes forjadoras del séptimo arte. Este acto intermedio pertenece a ellos, especialmente a Pacino con su inconfundible explosividad.
Para el tercero todo está asentado. El conflicto se dispara, la emotividad es provista por la estructura del primero y la comunión actoral del segundo, y finalmente el clímax está filmado con una singular maestría en la que no se necesita más que una perfecta progresión, un diálogo sobre un pescado en el asiento trasero de un carro y un disparo para concebir una gama de emociones, tensiones y suspenso soberbios. Perfección.
Faltaría un cuarto acto, un epílogo, tan elegante como nostálgico y en donde Scorsese rinde homenaje a sus dos fieles amigos, Joe Pesci y De Niro, un trio histórico que ve en The Irishman un excelso ¿final? Es notable como en este acto final Scorsese no muestra concesión alguna en mostrarse como es; no hay un minuto más o un minuto menos, sino los minutos exactos que él requiere para contar su historia; no hay "fan service", mandatos y/o cortes de producción, tendencias sociales, correcciones políticas, preocupación por la sensible y ofendida vejiga o consideraciones hacía con la audiencia de ningún tipo. Su relato en todo momento es atrayente, preciso y estimulante de principio a fin.
No hay que olvidar la variedad de factores perfectos que comprenden y en este caso ensalzan una obra de este calibre: diseño de producción, época, impresión de sucesos históricos, timing y por último y quizá más importante:  la amalgama musical de parte de su siempre exquisita selección de pistas y de un score que de seguro quedará marcado para la posteridad gracias a su tema principal, que como buen y astuto narrador (viejo lobo de mar), explota y explora hacía su final con un par de variantes, imprimiendo de manera romántica esa… ¿despedida? (como nota, paren oreja en el primer acto, que se escucha una variación del tema de The Godfather, porque como todo Maestro, hasta Scorsese sabe que debe pagar tributo y besar la mano del capo de capos).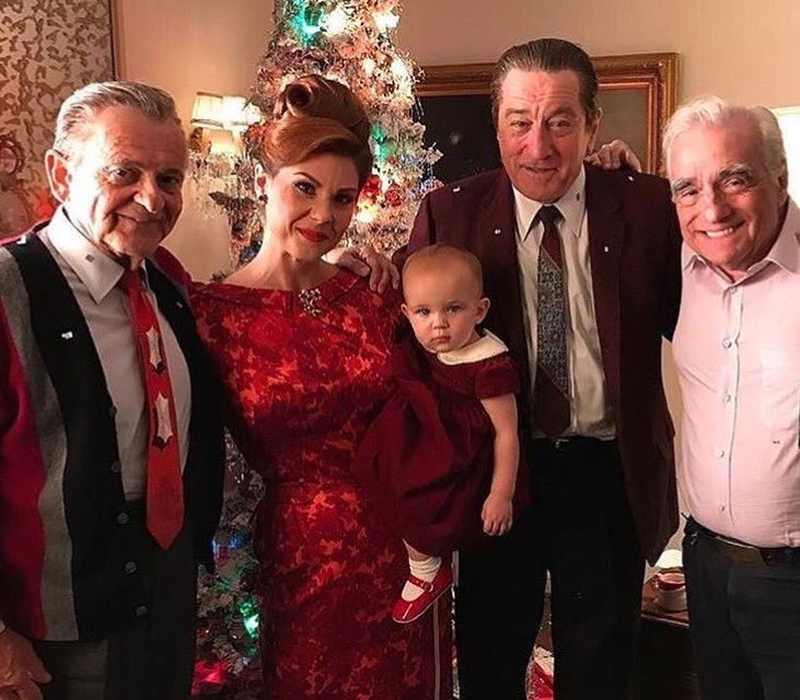 ¿Habrá algo que corregir en el simposio del maestro? Algunos han hablado de la poca participación de algunos actores y la irrelevancia de sus papeles ¡Falso! El trabajo de Jesse Plemmons o Anna Paquin es necesario, preciso y justificado con el tiempo que gozan en guion y pantalla. Otros han expresado cierto malestar con el CGI para rejuvenecer sobre todo a De Niro y Pesci ¡Verdadero! Y es que aunque esto no tiene injerencia en la calidad del relato, si cuesta un poco de trabajo acostumbrarse a dichos efectos, los cuales también se contradicen con los verdaderos estados físicos de los actores, sobre todo en un De Niro de 76 años que ya no se puede mover como si tuviera 40.
The Irishman debería sin problema llevarse todos los premios de la temporada  gringa si aún existe un esbozo de lógica o coherencia en esos premios "sociales" llamados "Oscar" o "Globos". Esto es cine a otro nivel (Scorsese, De Niro, Pesci, Pacino en el mismo plano) bajado del olimpo para que los mortales que solo ven "Marvel" lo puedan probar en su pantallita de televisión y streaming. Si hay respeto el verdadero amante del cine lo verá donde se debe, en una pantalla grande, como se concibió y evolucionó EL SÉPTIMO ARTE.
¿Algo más que decir? Gracias Maestro por tu excelsa clase y obra. Otra para tu larga lista de joyas.
DEJANOS UN COMENTARIO