Desde Deadline informan que Brian K. Vaughan, creador de la aclamada serie de cómics de ciencia-ficción, 'Y: The Last Man', será el encargado de adaptar el guion de 'Gundam', película que llegará en acción real basada en la popular franquicia de ciencia-ficción japonesa. Vaughan también ejercerá de productor ejecutivo para Legendary Entertainment y bajo la co-producción de Sunrise.
Sunrise y Legendary realizaron el anuncio de este proyecto durante la pasada Anime Expo 2018, uniendo sus fuerzas para producir la adaptación de una franquicia que nació hace casi 40 años y que acumula una gran cantidad de fans en sus diversos canales, incluidos series televisivas, mangas, novelas y otros medios. Por el momento los detalles de la trama se mantienen en secreto, con Cale Boyter, del departamento creativo de Legendary, supervisando el proyecto.
La serie está ambientada en Universal Century, una era en la que la creciente población de la humanidad ha llevado a la gente a emigrar a colonias espaciales. Eventualmente, las personas que viven en las colonias buscan su autonomía y luchan por su independencia contra las personas que viven en la Tierra. A través de las tragedias y discordias que surgen de este conflicto, no solo se representa con sensibilidad la vida del personaje principal, sino también las intenciones de los enemigos y las personas que los rodean. Las batallas en la historia, en las que vemos personajes pilotos robots, son muy populares.
Legendary no es ajena a este tipo de franquicias, pues además de la saga 'Jurassic World' cuenta con el universo expandido de Monsterverse, con películas como 'Godzilla', 'Kong: Skull Island' y las futuras 'Godzilla: King of Monsters' (estreno 31 de mayo de 2019) y 'Godzilla vs. Kong' (estreno 13 de marzo de 2020).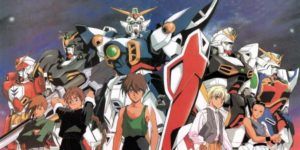 DEJANOS UN COMENTARIO