Tras años en desarrollo (inicialmente como película y más tarde como serie televisiva), la adaptación de la saga de animación japonesa de 1998, 'Cowboy Bebop' verá la luz por los estudios Sunrise y Bandai Visual como una serie de acción real para Tomorrow Studios ('Aquarius', 'Good Behavior'), quien desarrollará el proyecto en asociación con ITV Studios. Según informa Variety, la serie de Netflix contará en su reparto con John Cho, Mustafa Shakir, Daniella Pineda y Alex Hassell.
La historia transcurre el año 2071, después de que la mayoría de la humanidad se haya expandido por otros planetas debido a una explosión lunar que ha devastado la Tierra. La tripulación de la nave BEBOP, inicialmente compuesta por Spike Spiegel (Cho) y Jet Black (Shakir) viaja por todo el Sistema Solar en busca de recompensas. A lo largo de sus aventuras se incorporan tres nuevos personajes a su tripulación: Faye Valentine (Pineda), Radical Ed y la mascota Ein. Durante sus aventuras se desvela la tortuosa relación entre el protagonista Spike y su viejo camarada Vicious (Hassell), un temido asesino ahora rival de Spike.
La serie contará inicialmente con una primera temporada de 10 episodios bajo la producción ejecutiva de Marty Adelstein, Becky Clements y Matthew Weinberg y será escrita por por Chris Yost, cuyos créditos incluyen 'Thor: The Dark World' y 'Thor: Ragnarok'. Yost también tiene experiencia en televisión, pues ha trabajado en innumerables series animadas como 'Teenage Mutant Ninja Turtles', 'Wolverine and the X-Men', 'The Avengers: Earths Mightiest Heroes' o 'Iron Man: Armored Adventures'.
La serie contó con 26 episodios y posteriormente, en el año 2001, se realizó una película estrenada a nivel mundial titulada 'Cowboy Bebop: The Movie'. Además, durante años ha estado en desarrollo una película en acción real de 'Cowboy Bebop' con Keanu Reeves para desempeñar el papel de Spike, si bien el proyecto no llegó a cuajar.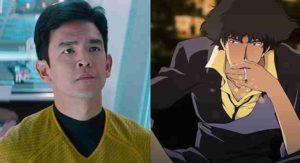 DEJANOS UN COMENTARIO