Después de concluir la novena temporada de The Walking Dead, AMC ha confirmado que la franquicia tendrá una tercera serie que se unirá a la original y a Fear the Walking Dead. De momento no han anunciado el nombre, sin embargo, adelantaron que la primera temporada tendrá 10 episodios. La filmación dará comienzo este mismo verano en Virginia, pues el plan es estrenarla en 2020.
Sarah Barnett, presidenta de la red de entretenimiento de AMC, comentó a Variety que la serie sigue dándoles "beneficios increíbles". "Es algo por lo que otro canal o red de transmisión realmente mataría", agregó. Los detalles sobre el argumento son escasos. Primeramente, revelaron que los personajes protagonistas serán dos mujeres jóvenes que están creciendo entre los caminantes.
Barnett asegura que las mujeres jóvenes tienen gran popularidad tanto en The Walking Dead como en Fear the Walking Dead, razón por la que decidieron apostar por perfiles similares. De acuerdo a la breve sinopsis, las protagonistas alcanzaron la mayoría de edad mientras transcurría el Apocalipsis, por lo que vivirán situaciones "atroces" y momentos de verdadero heroísmo.
Las declaraciones de AMC contrastan con la situación actual de The Walking Dead. Si bien la última temporada tuvo un buen recibimiento por parte de la crítica, los índices de audiencia son los más bajos desde que la franquicia debutó en la televisión en 2010. Por otra parte, Fear the Walking Dead no ha logrado tener la misma aceptación que en su momento tuvo la serie hermana.
Tras las salidas de Andrew Lincoln (Rick Grimes), Lauren Cohan (Maggie) y Danai Gurira (Michonne), las dudas se centraron en otro actor importante: Norman Reedus. En varias ocasiones se ha hablado sobre su supuesta salida, no obstante, recientemente salió a aclarar su futuro. Reedus afirma que no tiene planes de abandonar la serie, pero acepta que la decisión final está en manos del canal.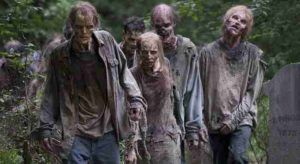 DEJANOS UN COMENTARIO